SAFETY DOESN'T HAPPEN
BY ACCIDENT
Guardrail Installations Australia undertakes a wide variety of projects using the leading products on the market accompanied with our Pauselli Guard Railing Machines.
Bellford to Golden Highway Interchange:
Project overview:
Transport for NSW is upgrading the New England Highway between Belford and the Golden Highway to provide two travel lanes in each direction and a flyover for vehicles turning right from the Golden Highway towards Maitland and Newcastle. The NSW Government is investing $97 million for the upgrade to improve traffic flow, travel times and safety for motorists.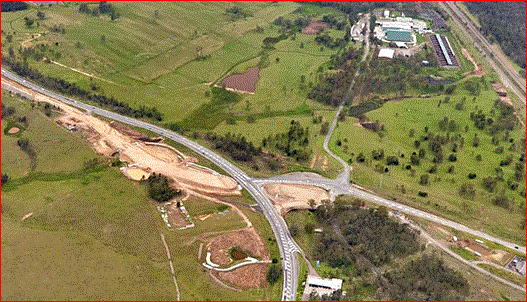 Principal Conctractor Acciona
​
Nelson Bay Road upgrade:
​
The NSW Government is investing $275 million to improve road safety and reduce congestion on the Nelson Bay Road corridor. The next priority for this program of work is the duplication of one kilometre of Nelson Bay Road between Salt Ash and Bobs Farm.
Principal Contractor Daracon
Western Sydney Airport - Airside Package
​
CPB Contractors and Acciona joint venture (JV) has secured a contract for airside civil and pavement works, including taxiways and runway, at Western Sydney International (Nancy-Bird Walton) Airport (WSIA) in Australia.
The contract includes airside services and utilities, including aircraft pavements, aircraft isolation pad and airside roads.
It also involves landscaping and aeronautical ground lighting system (including related sub-station buildings), as well as other specialist systems.
The 3.7km runway and rapid-exit taxiways construction, which is anticipated to provide over 1,200 direct job opportunities
​
Cabbage Tree Road - William Town Upgrade
​
The Australian and NSW Governments are jointly funding a $4 million upgrade of a 2.6 kilometre section of Cabbage Tree Road between Nelson Bay Road and Barrie Close to provide a stronger, longer lasting and safer road for motorists.
​
​
​
Principal Contract Port Stephens Council